The Problem
The U.S. nonprofit sector has a diversity problem.  90% of nonprofit CEOs and board chairs are white.  People of color comprise just 16 percent of nonprofit board members, nearly identical to 1994 figures, even though they represent 39 percent of our country's population. 30% of nonprofits don't have a single person of color on their board. The leadership and governance of nonprofit organizations is not racially or ethnically reflective of the demographics of this country or the communities they're serving. Building Movement Project, authors of the publication "Race to Lead" refer to this problem as the Nonprofit Racial Leadership Gap. 
---
The Solution
Building Movement Project's Race to Lead report asserts that the racial leadership gap is a systemic problem that requires comprehensive systemic solutions - specifically "to address and correct the racialized organizational and systemic barriers facing people of color as leaders and in the sector overall."
---
What We Do
As a nonprofit, Minority Inclusion Project (MIP) works within a peer-learning network of nonprofit and public agencies to close the nonprofit racial leadership gap by creating pathways to leadership for people of color. We offer a variety of ways to work to advance racial and ethnic diversity in nonprofit leadership - from programs designed to advance diversity in nonprofit boards and leadership, to in-depth workshops, to hourly consulting sessions, to race-equity-inclusion strategic planning sessions.  MIP is very adept at tailoring our work to meet the distinct needs of the institutions and professionals in our peer-learning network.
---
Upcoming Activities & Events
Coffee Connections: A Discussion About The Effects of Systemic Racism in Nonprofits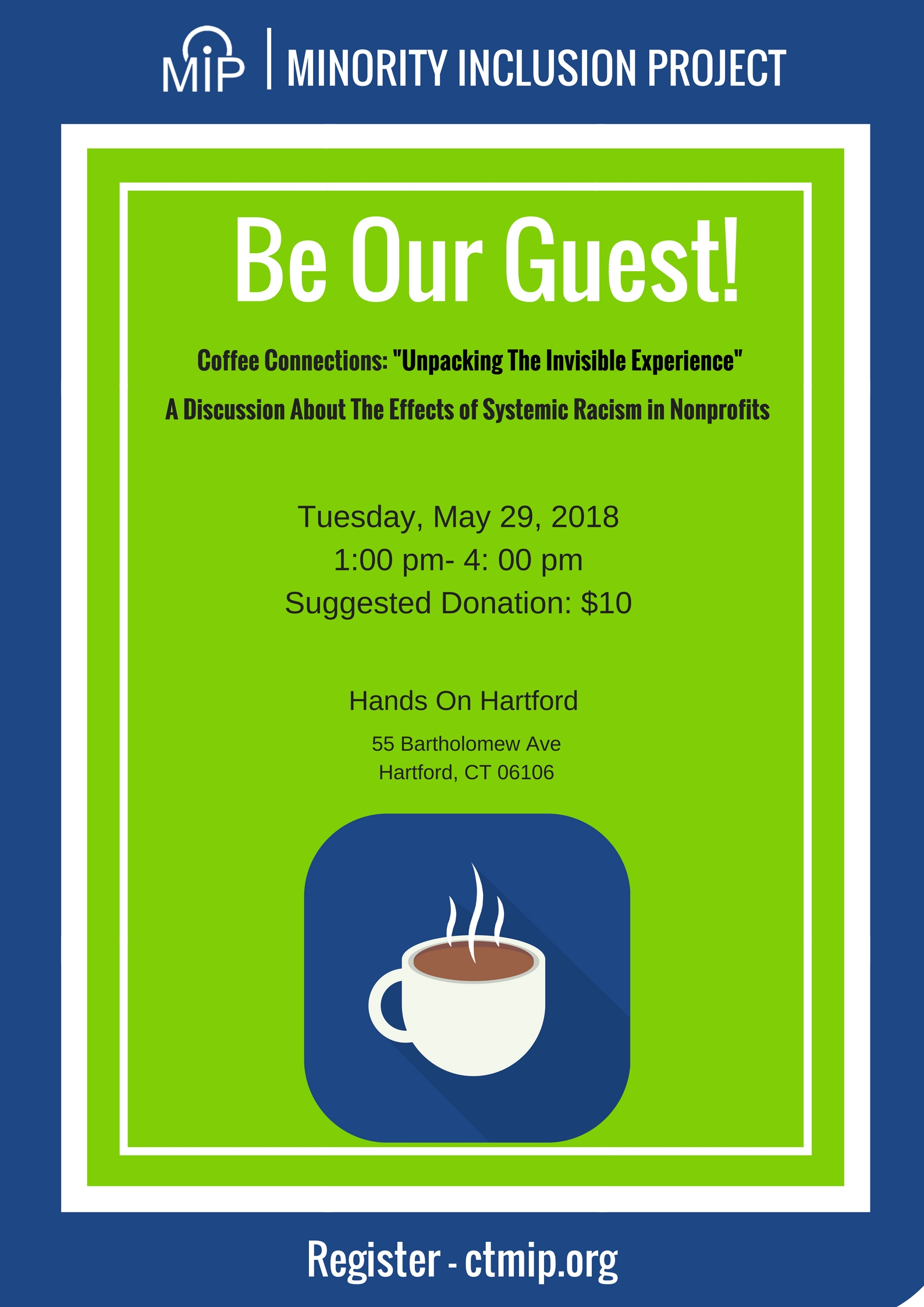 On April 12, Rashon Nelson and Donte Robinson made national news when they were racially profiled and arrested FOR SITTING at a Starbucks in Philadelphia, PA. The arrest led to outcries for action followed by a swift response from the City of Philadelphia and the CEO of Starbucks. In the aftermath, Starbucks announced that more than 8,000 Starbucks stores in the U.S. would close on the afternoon of May 29 so nearly 175,000 employees can get training in unconscious bias.
When Starbucks closes on the afternoon of May 29, Minority Inclusion Project will host a COFFEE CONNECTIONS to discuss the impact of systemic racism in the nonprofit sector. Coffee Connections is a community forum that creates a trusting space for networking and critical conversations about equity, race, diversity, and inclusion in the nonprofit sector. The series started in 2016 and has welcomed more than 200 people to meeting spaces for these important conversations. Our attendees include organizational decision makers, change agents, potential change agents, and community allies. Coffee Connections exists to:
- Confirm the racism people have identified in the organization and community
- Provide tools to frame their examination and analysis
- Connects change agents with one another
- Widens the space in organizations and communities for their voices to be heard
Join us at Coffee Connections for a panel discussion featuring nonprofit and business leaders from across the state followed by a conversation with Enola Aird, Executive Director of the Community Healing Network.
Advanced Registration for this event is REQUIRED. The suggested donation for this program is $10 to cover the rental of the space and the coffee & snacks.
Our Approach - The 3Cs
Research-based and designed by MIP, RE.I.D.S.™ (Race-Equity, Inclusion, & Diversity in Systems) is our framework for organizational change and continuous improvement guiding the implementation of race-equity, inclusion, and diversity strategies and activities for nonprofit and public agencies using the 3Cs: Capacity-building, Coaching, and Conversations. RE.I.D.S.™ is designed to assist organizational leaders, change agents, and external communities with developing and implementing informed strategic plans that seek to achieve more diverse communities using systems theory to identify the real causes of inclusion and race-equity problems and know where to work to address them.
RE.I.D.S.™ Capacity-building sessions help participants learn about the root causes of systemic inequities, develop an understanding of power dynamics, and learn systemic and pragmatic solutions.

RE.I.D.S.™ Coaching helps organizational leaders, change agents, and organizational equity teams to design and implement an equity centered thought process in their work across organizational systems.