The Problem
The U.S. nonprofit sector has a diversity problem.  90% of nonprofit CEOs and board chairs are white.  People of color comprise just 16 percent of nonprofit board members, nearly identical to 1994 figures, even though they represent 39 percent of our country's population. 30% of nonprofits don't have a single person of color on their board. The leadership and governance of nonprofit organizations is not racially or ethnically reflective of the demographics of this country or the communities they're serving. Building Movement Project, authors of the publication "Race to Lead" refer to this problem as the Nonprofit Racial Leadership Gap. 
---
The Solution
Building Movement Project's Race to Lead report asserts that the racial leadership gap is a systemic problem that requires comprehensive systemic solutions - specifically "to address and correct the racialized organizational and systemic barriers facing people of color as leaders and in the sector overall."
---
What We Do
As a nonprofit, Minority Inclusion Project (MIP) works within a peer-learning network of nonprofit and public agencies to close the nonprofit racial leadership gap by creating pathways to leadership for people of color. We offer a variety of ways to work to advance racial and ethnic diversity in nonprofit leadership - from programs designed to advance diversity in nonprofit boards and leadership, to in-depth workshops, to hourly consulting sessions, to race-equity-inclusion strategic planning sessions.  MIP is very adept at tailoring our work to meet the distinct needs of the institutions and professionals in our peer-learning network.
---
Upcoming Activities & Events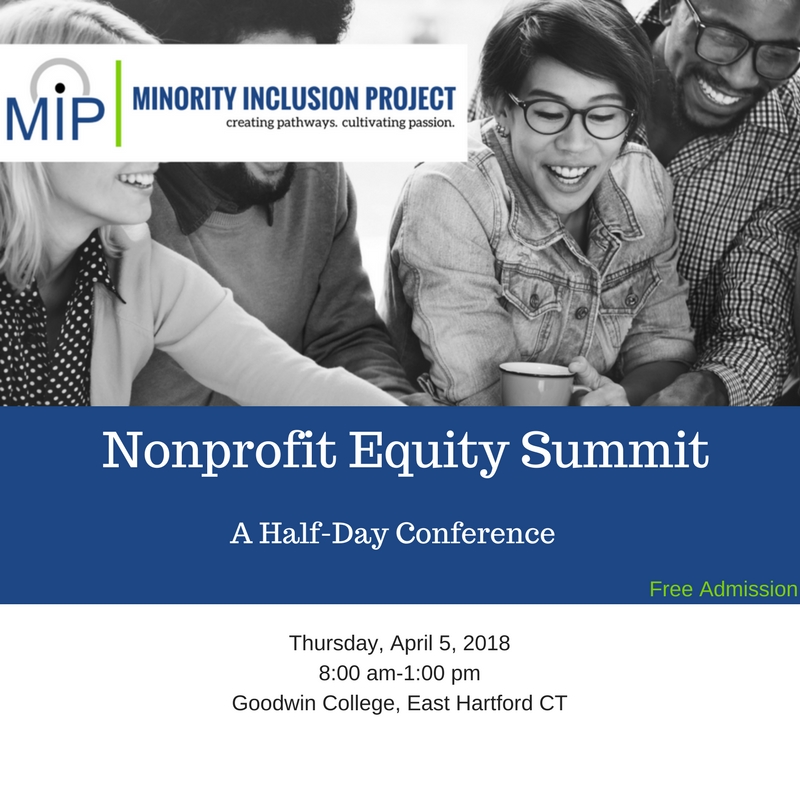 The Nonprofit Equity Summit is a half-day conference facilitated by Minority Inclusion Project that is designed to discuss the needs, obstacles, benefits, and opportunities for nonprofits to become diverse, inclusive, and equitable. Join leaders from the nonprofit community and students from Goodwin College to share insights and ideas for a better social sector.
8:30am: Registration & Networking
9:00am - 11:00am: Session I: "Practical Strategies to Advance Diversity, Equity, and Inclusion"
- This workshop is for leaders, board members, administration, and staff from nonprofit organizations and Goodwin College. You'll learn a practical top-down strategy to advance DEI in your workplace.
11:00 - 11:30am: Nonprofit Networking Fair
- Students from Goodwin College are invited to meet and network with nonprofit leaders to discuss internship, fellowship, job, and board opportunities.
11:30am - 12:30pm: Session II: "Equity-Centered Leadership"
- This workshop is designed to introduce Goodwin College students to the importance of equity in leadership. As students explore careers both in and out of the nonprofit sector, having an understanding of equity, diversity, and inclusive leadership is critical to their success in a multi-cultural workforce.
12:30pm - 1pm - Final Reflections & Closing Remarks
Our Approach - The 3Cs
Research-based and designed by MIP, RE.I.D.S.™ (Race-Equity, Inclusion, & Diversity in Systems) is our framework for organizational change and continuous improvement guiding the implementation of race-equity, inclusion, and diversity strategies and activities for nonprofit and public agencies using the 3Cs: Capacity-building, Coaching, and Conversations. RE.I.D.S.™ is designed to assist organizational leaders, change agents, and external communities with developing and implementing informed strategic plans that seek to achieve more diverse communities using systems theory to identify the real causes of inclusion and race-equity problems and know where to work to address them.
RE.I.D.S.™ Capacity-building sessions help participants learn about the root causes of systemic inequities, develop an understanding of power dynamics, and learn systemic and pragmatic solutions.

RE.I.D.S.™ Coaching helps organizational leaders, change agents, and organizational equity teams to design and implement an equity centered thought process in their work across organizational systems.