Minority Inclusion Project (MIP) works within a peer-learning network of nonprofit, private, and public partners to close the nonprofit racial leadership gap by creating pathways to leadership for people of color.  We provide board training & leadership development, diversity programs, transformative consulting services, and community conversations that help create a more informed, equitable, and inclusive social sector where all people – with regards to race, age, culture, gender, ethnicity, religion, sexual orientation, class, or disability are invited to the leadership table, respected, and treated fairly.  Our growing network includes more than 50 organizations and 700 individuals across sectors including faith-based and arts organizations, private and community foundations, nonprofit agencies, community coalitions, private sector businesses, colleges, and more.
---
What's New(s)?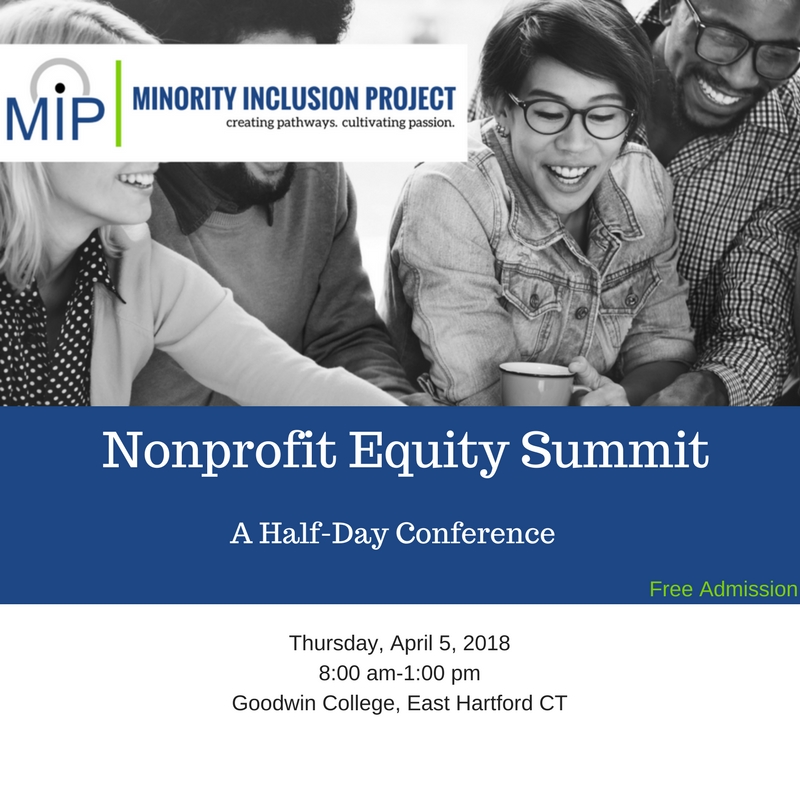 The Nonprofit Equity Summit is a half-day conference facilitated by Minority Inclusion Project that is designed to discuss the needs, obstacles, benefits, and opportunities for nonprofits to become diverse, inclusive, and equitable. Join leaders from the nonprofit community and students from Goodwin College to share insights and ideas for a better social sector.
8:30am: Registration & Networking
9:00am - 11:00am: Session I: "Practical Strategies to Advance Diversity, Equity, and Inclusion"
- This workshop is for leaders, board members, administration, and staff from nonprofit organizations and Goodwin College. You'll learn a practical top-down strategy to advance DEI in your workplace.
11:00 - 11:30am: Nonprofit Networking Fair
- Students from Goodwin College are invited to meet and network with nonprofit leaders to discuss internship, fellowship, job, and board opportunities.
11:30am - 12:30pm: Session II: "Equity-Centered Leadership"
- This workshop is designed to introduce Goodwin College students to the importance of equity in leadership. As students explore careers both in and out of the nonprofit sector, having an understanding of equity, diversity, and inclusive leadership is critical to their success in a multi-cultural workforce.
12:30pm - 1pm - Final Reflections & Closing Remarks
Our Approach
MIP offers business professionals training, guidance, and opportunities in their pursuit of nonprofit board and staff leadership.  Experienced professionals can benefit from our valuable networking events, community conversations, board matching, and mentorship opportunities.